Velocity Trade Broker: Is it a legit company?
Velocity Trade is an old Australian brokerage service with more than 10 years of experience. It specializes in Forex and shares dealing trading. It works in many countries around the globe, and seems to be trusted by many customers. But what is the reality? Read our Velocity Trade review to find out whether it is a fraud or a legit company!

About Velocity Trade
Velocity Trade was founded in 2007 and is based in Australia. It has several offices in Europe, North America, and Africa too. Therefore, the broker offers its services to users from Canada, the United Kingdom, South Africa, and many European countries. It is regulated by various authorities in the countries in which it operates. An example is ASIC.
The company provides access to 40 exchanges to trade all kinds of cryptocurrencies, commodities, and a bunch of other assets. The biggest markets can be found here, and this opens a lot of trading opportunities.
Although the company is thought to be too old and outdated, it is still a partner of many financial institutions and professional traders. Velocity Trade does not care about what is on the front-end, it cares more about what functions can it provide.
What can you trade with Velocity Trade?
With Velocity Trade, it is possible to work with all kinds of assets. These include:
Forex pairs, including exotic ones
Metals, energies, and agricultural
United Kingdom shares
There are many equities. Detailed information is available on the broker's website.
Trading platforms
The trading platform that is used at Velocity Trade is MetaTrader4. Seeing this name here is not surprising because it is a really popular software in the industry. There are many useful features, tools, and trading instruments that can be used here. Also, the software allows traders to implement third-party add-ons. These are a great addition to the basic features of MT4.
In addition, the platform has powerful analysis tools that let you create precise charts and analyze every bit of the market. This will significantly enhance your trading performance.
Fees
The spreads charged by the service are determined by the region you work in. The conditions are different, but there are some general numbers. For instance, the EUR/USD pair, which is the most popular around, has an average spread of 3 pips. It is a bit high in comparison with other companies, but there are even higher commissions.
Payment methods
If you want to make a deposit or withdraw your funds with Velocity Trade, you need to know which payment methods are used. There are only two of them:
As we can see, the options are very limited, and it is not a good thing for the company and its clients. Many other competitive brokers provide a larger number of methods.
Website evaluation
The website of Velocity Trade does not have a user-friendly design. In comparison with other brokerage services, the interface is definitely not intuitive. Navigating on the website is difficult for most users and the sections are not well-structured.
There are several sections that explain the meaning of different equities, how important they are, and why must one trade them. The registration process is very time-consuming because it cannot be done on the website, a live call is required. This is definitely not the best choice.
User opinions on Velocity Trade
We have carefully searched the internet for Velocity Trade reviews and have come to the conclusion that there are not many of them available. Either the users do not leave any opinions or the company just makes everyone keep a neutral opinion. We can't tell.
Here is what Lain, a user from New York, says about the company.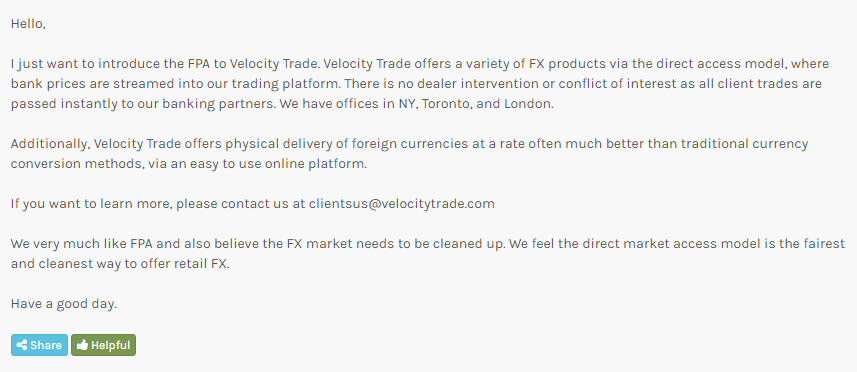 He mentions that there is no intervention or conflict of interest with the dealer because clients work with the assets directly. Also, the user states that Velocity Trade offers better terms for currencies.
According to the reviews on HelloPeter, there are only eight reviews, and all of them are negative. People complain about various issues like no dividend payments or the lack of customer support.
Here is what a user with a nickname P G has posted on the website.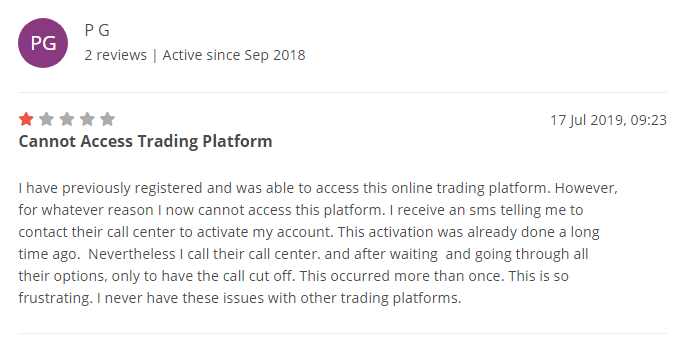 He mentions that although he was able to create an account and trade, with time, the access was declined. He was asked to reactivate his account, but after multiple attempts, there was no result. His experience is very frustrating and suspicious.
Here is what Johannes T has posted on the same platform.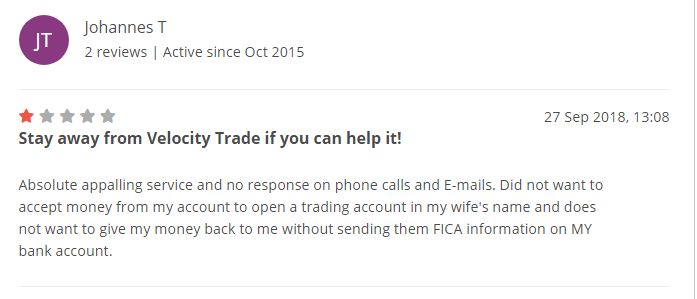 Johannes says that the customer service is terrible. Phone calls and emails are ignored, there are no answers for any issues. The company refused to return his funds after several issues and requested additional documents that were not required.
Conclusion
According to all the information that we have got, Velocity Trade is not a good broker. Although the company has many years of experience, has many offices worldwide, and is regulated by reputable authorities, the user reviews leave a negative opinion about this brokerage service. We recommend being careful with Velocity Trade because we have not found any positive reviews about the service, and it is not listed on many rating websites.
If you have got any experience with this company, please let us know about it in the comments. Your opinion will help many users avoid scams and find legit brokers!