Umarkets Forex Broker: User Reviews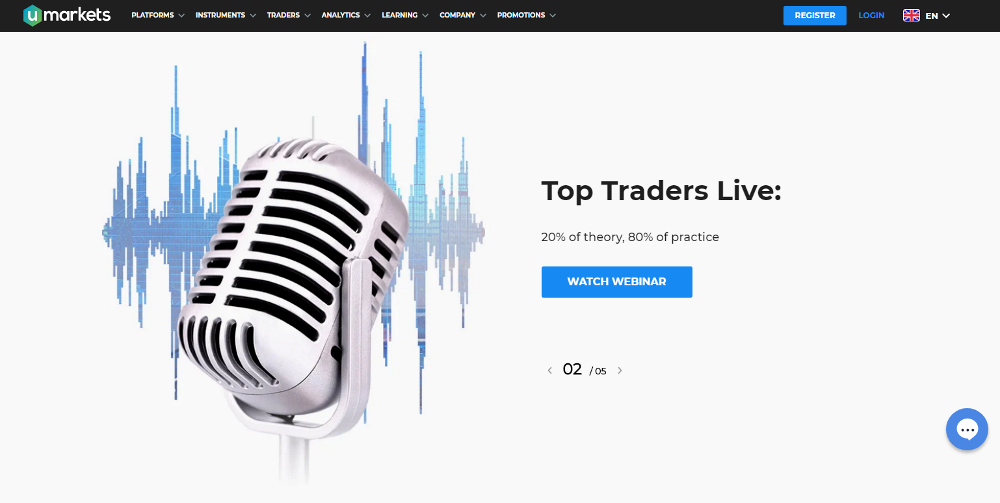 Umarkets has a lot of feedback on different client review aggregators. For a new company that doesn't have that many users, they have truly accumulated a large amount of bad reputation. Right away, don't trade with this broker. However, if you want to know exactly why you shouldn't trade with them, then stick around.
However positive the journalist reviews may be, the client reviews is what you should be looking at. The impartial user reviews put together can give you a very clear picture of the average experience on any exchange. There are a lot of reasons why 'professional' reviewers can't give you that much insight.
So, let's look at the user reviews about Umarkets to see what's wrong with it. But first, a few words about the broker itself.
What is Umarkets?
Umarkets is a moderately-sized broker with all types of instruments availably at any given time. At a first glance, Umarkets gives an impression of a thorough broker with all possible types of content. As to the available assets, they can offer you:
Shares – stock assets from many notable organizations and corporations
Indices – groups of different shares
Commodities – different valuable products, such as oil, gold, and so on
Forex – foreign currency, such as dollar, euro, pound, yen and a lot more
Crypto – cryptocurrency markets, such as Bitcoin, Ethereum and so forth
To help you in your task of gaining profits from investing into different sorts of assets, Umarkets also provides you with different sorts of learning material about the general rules of trading (including many articles and webinars) and also several pages that contain the information about trading on Umarkets (spreadsheets, account types, etc).
So, in theory you can become very knowledgeable about different aspects of trading – both on Umarkets and in general – and, consequently, successful. However, there are several crippling disadvantages that prevent you from doing so. To add the fuel to the fire, there are essentially no redeeming qualities that would tip the balance back.
The user rating
The large part of Umarkets reviews can for some reason be found on just one platform – a review aggregator called topbroker.com. Here, the average rating is about 2/5, which is far from well.
What did Umarkets do to cause such outrage? Well, take a peek.

The disadvantages
Most of the flaws are tied to the atrocious state of the client interaction, one way or another. Strictly speaking, there's nothing wrong with the exchange – but the way agents interact with you makes you think they intended the platform as a scam from the very start.
The customer support itself
Well, the customer support itself is non-existent. It's just not there. If you contacted what's called the support on this website, you'd be met by some robot-like helper that doesn't do much. The human element is only present in one activity – the one described further below.
But yes, the lack of proper or, in this instance, any customer support is the sign of apathy towards the customers. The client support is one of the most important features you could come up with for a finance-related platform. And it's simply not working on Umarkets.
Submitting your personal data on Umarkets is a poor decision, because they will use it in their unpleasant (for you) sales tactics further on. That's the part of the client support that actually has the human element – the only part, as it seems.
So, what's the tactic? Once you've deposited some amount of your money to Umarkets, their agents will start calling you on the number you submitted. They key purpose is to persuade you to deposit more money, by varying methods.
If it becomes apparent that you absolutely can't do it, they will limit your abilities on the website and, in the end, block your account completely. And what do they have to gain from it? Here's what.
Since Umarkets still has some amount of positive feedback on different review aggregators, it's safe to assume that some clients are able to withdraw their money from this broker. Nevertheless, the wide majority doesn't have this right.
It seems that Umarket decides whom to stop from withdrawing their money based on the actual amount of money on their trading balance. If it's pretty small – they won't bother. However, some tens of thousands will attract their attention.
That's exactly the reason why they ask you to deposit more money, and that's exactly the reason why the initial deposit levels are much higher than usual (the minimal amount you need to trade is $500). Once you've accumulated a large amount of money on your account, they won't let you have it.
The scamming strategy
So, to summarize the scam they utilize in most scenarios, that's what the sequence is:
Lull the clients into the false state of security by the variety of features everyone can see right away
Once they've signed up, persuade them to deposit as much money as they can
Refuse to withdraw the money
It may sound like the inversion of facts to one narrative – Umarkets are just bad, run away. However, there are just too many reviews that complain about being robbed by Umarkets in the same very way. And this article is basically a summary of all the problems encountered by the users.
In conclusion
Don't get yourself fooled, Umarkets is a scam. You can argue that they are not because of your own reasons – and you have a right to do so. However, you have a 60% chance of getting robbed and never getting your money back. If this chance sounds good by you, then you're welcome to try and cheat the broker.
Otherwise, you're highly advised to stay away from Umarkets, because they are most likely a scam. Thank you.