NDAX exchange review: is it a legit service?
NDAX is a Canadian exchange that began operating in 2018. It has many cryptocurrencies that can be traded. Its aim was to simplify crypto trading for all users, and it looks like it was a success. However, is this an exchange that can be trusted? Read our NDAX review to find out!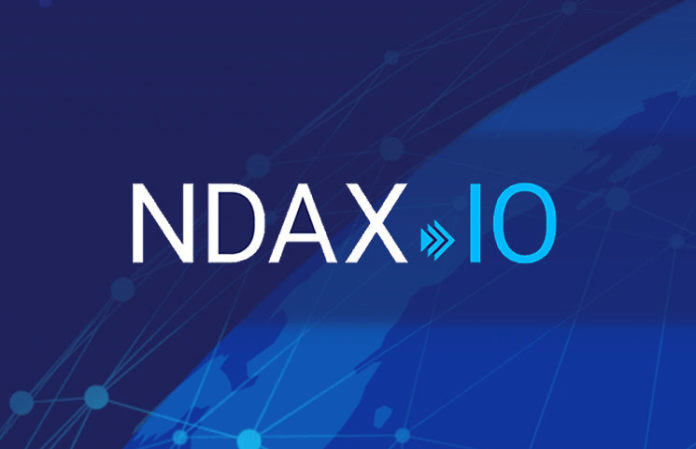 About NDAX
NDAX was launched in June 2018. The full name of the service is the National Digital Asset Exchange. It is available only for people in Canada. When the service was developed, the quality, security, and compliance standards were met.
This crypto exchange is integrated into the Canadian banking system and is easy to use for both retail and institutional clients. The head office is located in Alberta, and the exchange is regulated by FINTRAC.
NDAX contributes a lot to the cryptocurrency industry in Canada. It aims to set new standards to make the industry work better.
What can you trade with NDAX?
There are several coins that can be traded here:
BTC
LTC
XRP
XLM
ETH
DOGE
EOS
ADA
All of them are connected to the Canadian dollar and can be traded directly. There are eight currency pairs that can be used.
Payment methods at NDAX
Deposits at NDAX can be made in only three different ways:
Wire Transfers
Bank drafts
Interac e-Transfer
Withdrawals at NDAX have more options:
Crypto transfers
Bank deposits
Wire transfers
As you can see, these methods are rather common and are used by many competitive exchanges.
NDAX fees
There are no deposit fees at all. However, when you withdraw your funds, you will have to pay a specific amount of money. It can be as low as 10 DOGE and up to $50 for wire transfers. Here is a detailed table where everything is explained.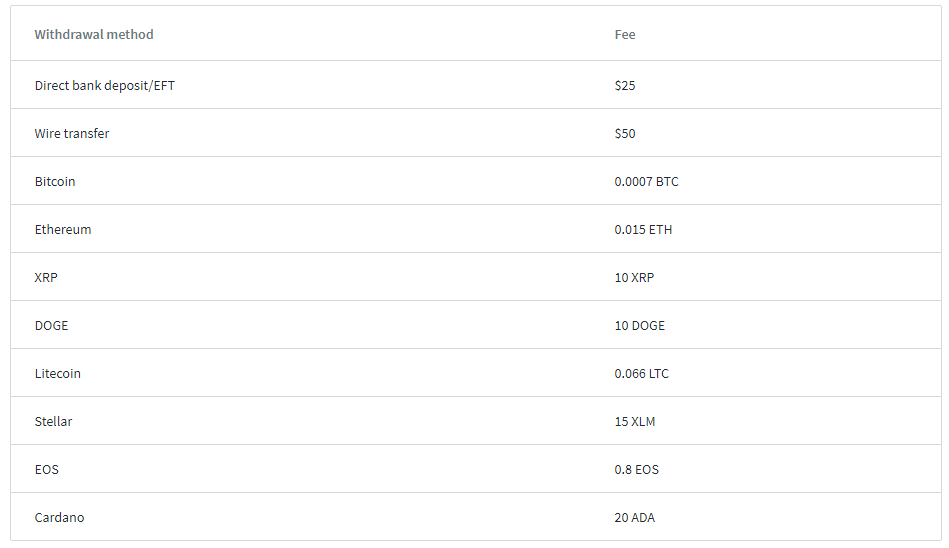 Also, market makers do not have to pay anything. Nevertheless, market takers have to pay 0.2% of the amount they work with.
Verification process
Because NDAX is regulated by FINTRAC, it has to follow the anti-money laundering requirements. Mostly, all legit exchanges ask their users to send the same information because it is required by the local laws.
The verification is quite quick for individual accounts. The service sends to Equifax the customer's information: name, address, birth date, phone number. It will take no more than a couple of minutes to pass the first step.
There also is an enhanced verification. It allows users to increase their daily withdrawal limits. This step requires users to send their driver license or passport. A separate requirement to confirm the user's address is a photo of a recent utility bill or any other document that proves the individual's residence.
Mobile application
NDAX has a mobile application for Android and iOS devices. It has the same tools as in the web-version. The app can be downloaded from the Play Market or App Store. Even if you have no experience in using mobile software, NDAX has made a quite intuitive navigation system in its application. Therefore, there should be no issues.
Is NDAX safe?
NDAX is officially registered in FINTRAC and completely follows the anti-laundering requirements. You have to complete the verification process to start working with the service. Also, 2-factor authentication is another requirement for all users to make their accounts safe. Whenever anyone logs into your account, you will be informed by email. If your IP changes, you will have to confirm the authorization.
Considering all the points from above, NDAX is quite safe to use. It makes sure that your account remains available only to you, and no third-party users can hack it. There have been no issues with the exchange before, so it is a secure choice.
Limits
As we have previously mentioned, NDAX has a number of limits which can be increased by passing the complete verification. These are:
One certified check deposit or wire transfer in an amount up to $3000 per 24 hours
One Interac e-Transfer deposit from $100 to $3000 per 24 hours
For withdrawals, the limits are a bit different. If you did not verify your account, it is impossible to cash-out your funds. If you did, here is what you get:
2 BTC a day
10 BTC a day and no more than $500,000 per month for accounts with a complete verification
The exchange follows all the requirements and that shows that it is a legit choice.
User opinions about NDAX
There are not many reviews on the internet about NDAX. However, those which we have found are only positive. People usually like customer service, comfortable and understandable interface, and many other details.
Here is an example of a review left by Alexandre Cabot. He has tried out several different exchanges and NDAX has satisfied him the most. The customer support had the highest quality here.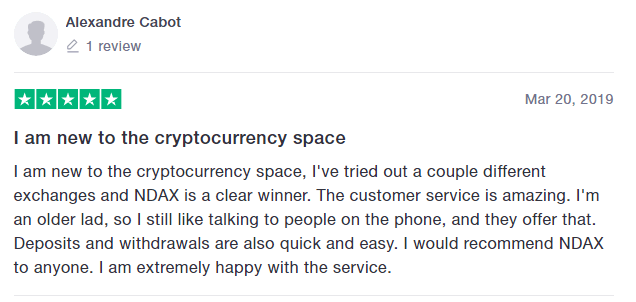 He is also glad that there is an option to contact the customer support by phone. Finally, the deposits and withdrawals were quick and he did not have any problems with them.
This is what Diego thinks about the service.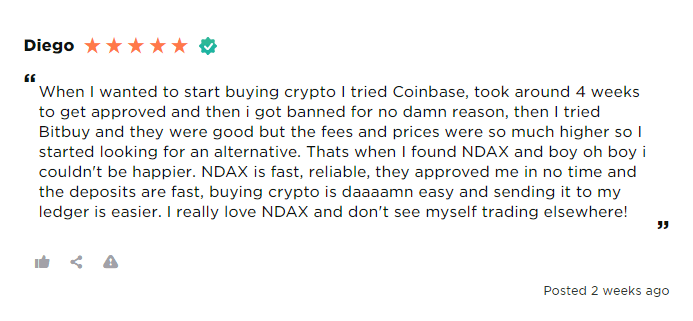 He says that he tried working with Coinbase but they banned him for no reason. Then, he moved to NDAX. This changed his opinion about exchanges, and he has realized that purchasing cryptocurrencies is very easy.
Conclusion
NDAX is a Canadian cryptocurrency exchange that lets Canadian users change CAD to any cryptocurrency or vice versa. The website design is very comfortable and intuitive. It looks modern and cool. The trading fees are very low. Nevertheless, the withdrawal fees can bite into your profits.