Lexatrade Forex Broker: a Critical Review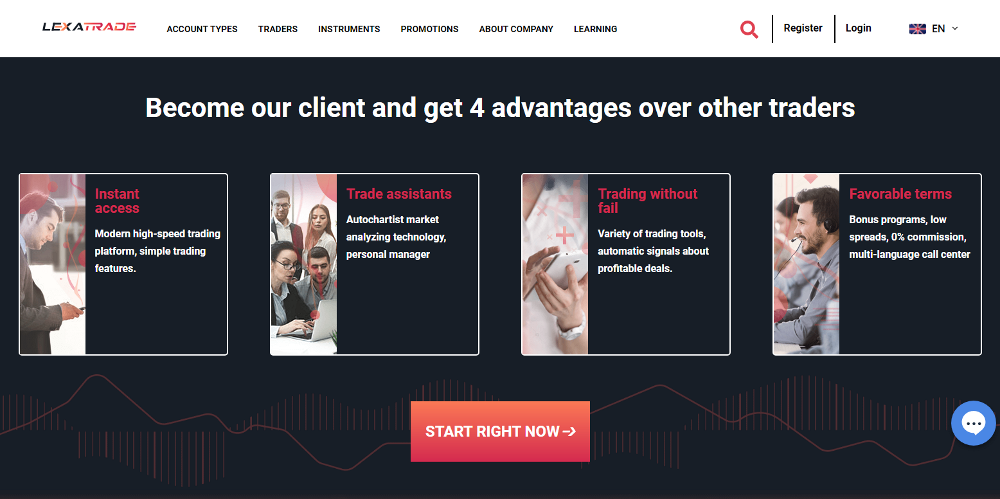 So, Lexatrade is a minor Forex broker with a moderate amount of regular users. In terms of practical trading experience, Lexatrade doesn't have too many bad sides – it's just a regular broker with several types of products ready for trading.
The users who use it claim it's a very good broker with responsive teams of support and clean reputation. But the wider community tends to disagree – there's a lot of points that simply can't help but attract criticism.
This review will list a few of the major points of criticism and tell you why they may or may not be the sources of worry. Let's go.
What is Lexatrade like?
If you look at Lexatrade as a provider of services, it doesn't look all that impressive. The list of assets includes shares, indices, crypto, commodities and foreign currency, and that's about it.
Lexatrade also goes to certain lengths in order to keep you educated and ready. For that, they've established a 'learning section' that consists of:
Educational videos – about 70 of them grouped in 7 courses dedicated to the most relevant topics, like CFDs, Forex, Stocks, MT4 and more
E-books – there's only 1 book really, it's about being successful in trading and it consists of 20 pages. A neat and short read, won't lose much time
Regular webinars – you can sign up for some of them in you have time
A questionnaire – a group of questions submitted by Lexatrade to understand you better and provide you better conditions for your own style of trading
However, this education focus goes beyond simply providing educational material. Lexa gives you extensive information about what you can or can't do with different types of account, as well as a full sheet of fixed low spreads for all occasions.
However, that's where the potential issues arise.
Availability
Most users will probably sign up for the Start account – the lowest-ranking one – without the second thought. However, you should really pay attention to what they offer you. Take a look at this table of account types.
There are 5 different types of accounts:
Start – allows you to deposit as little as $250
Silver – the minimal deposit goes up to $3000
Gold – the minimal deposit goes up to $10000
Platinum – the minimal deposit goes up to $50000
VIP – doesn't allow you to trade unless you have $100000
Certainly, they don't only differ based on the amount of money you need to trade. There are certain bonuses and restrictions which you can see by scrolling further down. What you'll see is that Lexa heavily restricts pretty much everyone below the Gold status.
It gets ridiculous – you can't trade in commodities, stocks, can't use MT4 (up until the Gold), can't use the portfolios, can't access learning material, the financial analyst won't help you, and so on. The withdrawing speed also suffers – Starts and Silvers will have to wait a lot longer for their transfers to process than users with other statuses.
It means that if you want to trade small (for your own reasons or if you don't trust Lexa yet), you'll be hard-pressed from the beginning. You'll have to use their own trading systems (Web or mobile) and be restricted to only a handful of available products.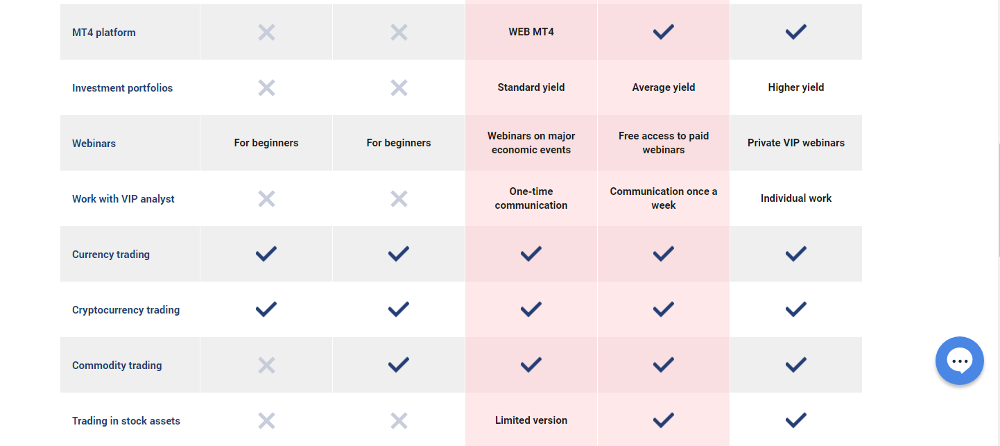 Why Lexatrade?
There are many other brokers that allow you to trade in all sorts of assets without confining you so harshly. It's true that low spreads and good general performance do compensate for these limitations a bit, but you can only really trade here if you can trust the broker. And right from the start, it's pretty hard.
So, are Lexatrade frauds? That's the question.
Different reviews (including those written by the regular users) suggest Lexa is pretty safe – both from hackers and from inner fraud. However, there are several points that indicate that you still shouldn't trust this broker completely.
Lexatrade is registered on the New Grenadines – a very popular off-shore location, especially for brokers. Being registered in the tax-free location also means your company won't be regulated by the trusted financial establishments. So, Lexatrade is either not controlled by any institutions at all or has only a token regulation.
It's not uncommon for brokers to seek such shelters, but it is also not uncommon for the brokers to cheat that users.
Of course, it doesn't mean Lexa is a fraudulent company, but do keep in mind: there's nothing stopping them from being or becoming one.
Trading platform imposing
They have their own Web trading system, as well as a trading app. Many brokers have their own in-built exchanges and interfaces – they generally look neat and better correspond with the environment on the exchange.
However, they also rarely forbid the majority of their users from using other software if they feel like it. Nevertheless, it's strictly stated that you can't use MT4 (and it's the only third-party piece of trading software you can use) unless you pay Lexa more.
If it's not fishy, it's totally user-unfriendly then.
In conclusion
Lexatrade has some good offers, but they are completely overshadowed by all the restrictions you need to live with until you can deposit large sums of money. But here's the catch – can you trust them that much of your money?
Right now, the answer is 'probably'. There are no loud complaints about cheating from Lexa, even though they are always abundant. But if it's not fraudulent now, it is still domineering, uncomfortable and fishy.
The regulars on Lexa will disagree, and it's their right, they've already made some money out of it. However, those who still only contemplate working with them should look elsewhere. There are better candidates.