Just2Trade Forex broker review: Features and Tools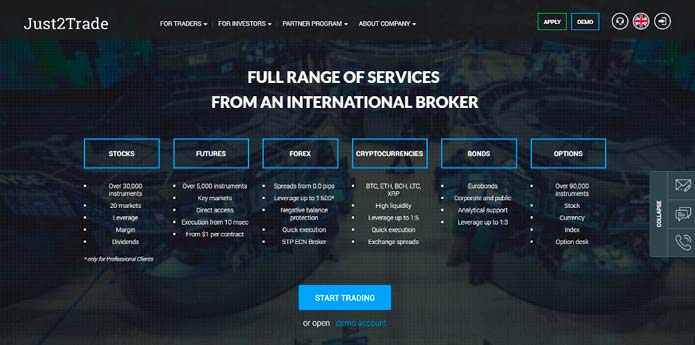 Just2Trade is a brokerage provider that appeared in 2007 and was then bought by Russian entrepreneur in the 2010s. There are many intriguing tools, and the broker gives coverage for most popular markets. By all accounts, it looks pretty standard, and it largely is.
Deeper in, J2T has a few interesting solutions that might brighten your trading up, but they generally don't give a lot of unique features.
Let's see why you might think so and what it means for your average trading experience.
What is Just2Trade really?
Just2Trade is owned by a Russian company at the moment. Brokers from Eastern Europe and Asia often stay active exclusively within their linguistic or cultural region. So, most Russian providers only really work within the former Soviet space.
Plus, they sometimes fall short of the standards set by the Western traders. In such cases, they just don't fit and lose potential customers.
But it's absolutely unfair to assume that all Russian providers are only fit for the Russian-speaking users even when they support other languages.
It's true – J2T supports the Russian- and Ukrainian-speaking trading communities very much, but it doesn't mean that they neglect all others. They support tons of other languages, and all of these have dedicated client support, so you needn't worry about being unable to contact the staff.
They are also fairly advanced technically. As mentioned, there are tons of contemporary trading tools, and you can't really say the services here are outdated in any capacity.
What do they have to offer?
They have quite a few product types for trade, including:
Shares – 30000+ assets
Futures – 5000+ assets
Forex – all global currencies and more
Cryptocurrency – Bitcoin, Ethereum, Bitcoin Cash, Litecoin and Ripple
Bonds – mostly those issued in Europe
Options – 90000+ assets
So, J2T doesn't really focus on any particular product type, they are distributing their effort across many markets. It would generally lead to users having a lot of variety, but not much depth. In this instance, it might be true in comparison to the specifically Forex brokers or specifically stock brokers.
However, the numbers are still high enough that you won't likely complain about any sort of lack.
All things considered, all this content is pretty standard, there's nothing special about any of it. There are unique features in other areas of this platform, however.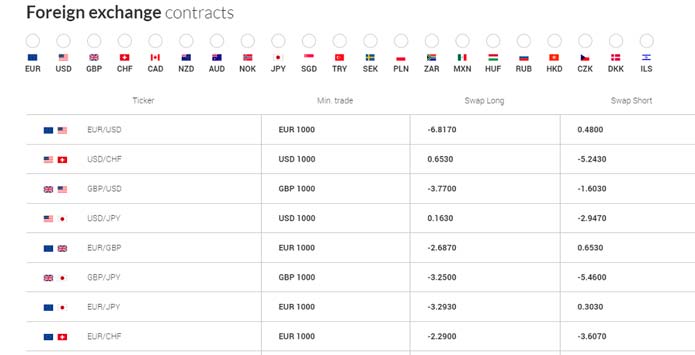 Trading tools
There are several interesting tools that'll help you with trading, but let's first talk about the trading platforms available here.
Trading platform is the software that enables you to conduct trading and connect to markets via your broker without much toil. Most brokers use MetaTrader 4 as their primary trading platform, but there are more of them. J2T has 7 of them:
MetaTrader 4 – a popular and comfortable platform with a lot of customizable potential
MetaTrader 5 – an upgrade of the previous platform with (arguably) better features but less customizing
CQG – a little-known platform with a lot of nifty tools and a focus of derivatives
ROX – a specifically America-oriented platform with free access to virtually all big American exchanges and most securities on them
J2TX – a reportedly reliable and comfortable crypto buying system made by the broker itself
Sterling – a professional-grade platform with a lot of different tools for deeper trading
Lightspeed – a platform with a notoriously speedy performance and great optimization
You can choose whatever platform you want, depending on what style of trading you prefer and what qualities during the trading session you like (i.e. abundance of tools, speed, stability, and so on).
Although you can use any of these 7 platforms, most people still use MT4 & 5 because they are familiar with them and it's common knowledge that MT4 is just a very good piece of software.
So, all these platforms considered, the users do have more variety to express their trading styles, but only in theory. Chances are, you'll still be trading through MT4, unless you are a fan of one of these lesser-known platforms.
Commission and Performance
Another two points continually boasted by J2T are their low commission and instant execution. Rather, they are two points noticed by most traders who use their services. Apparently, the promises are true.
Commissions are not exactly zero, but they are pretty low (less than 1% in most cases). Most zero or low-commission brokers simply increase the spreads to compensate for their losses, but it does not seem to be the case here.
J2T is also likely not a scam, it's not the case here. Such low commissions are probably the product of generally low cost of everything in Russia. Although they also sell access to various trading platforms and other instruments here, and that is a great way to rack up some money.
You should note that commissions change based on what trading platform and what kind of security you use. So, you should investigate a bit prior to trading.
In conclusion
J2T is a pretty standard broker, but at least they are likely not a scam. They do have a wide selection of tools, but it's unlikely you'll be using any of these. Even without any special treats, Just2Trade offers you a chance at comfortable and honest trading, which is what most people want anyway.
They might seem fishy, but the looks are deceiving – they are pretty decent and you should check them out if you're looking for the place to settle.