HotForex Forex broker review: Features and Possibilities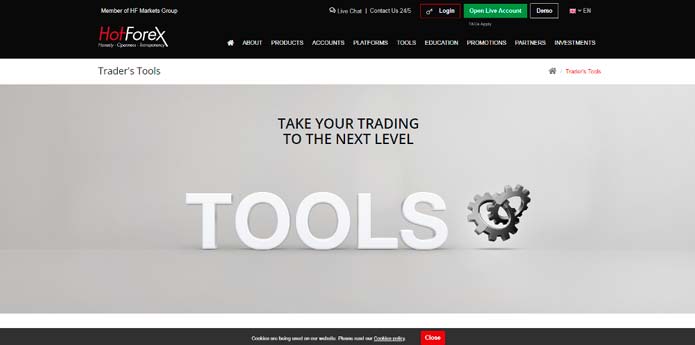 HotForex is a very extensive brokerage provider. For a veteran trader, most features on this website would be crystal clear. For the new or not as experienced traders, this cluster of information can pose a challenge. Especially since HotSpot isn't a very intuitive website.
HotForex is also pretty controversial, as far as some users are concerned. So, let's see what unique quirks this broker has and what sort of issues they got.
What is HotForex?
HotForex is a relatively new Forex broker. It means they provide access to numerous markets, the chief among which is the worldwide currency market. They've appeared in 2015, and have accumulated a pretty decent user base.
That's actually where the interesting stuff starts – in their history. They claim to be on market for 10+ years, but they've only been registered as a brokerage provider since 2015. Naturally, it can mean that they were registered under a different jurisdiction or name before, but things start to get fishy.
It's a small detail, but if the company might not be transparent – you'll want every piece of information to understand whether you can trust them or not. But that's the subject for later.
Trading on HotForex
HotForex has 5 categories of products, including:
Forex – the foreign exchange market, which includes trading in various currencies.
Cryptocurrencies – a number of the most valuable cryptocoins.
Metals – one of the most lucrative types of rough commodity.
Energy – oil and gas commodities.
Commodities – all other precious resources, like sugar, coffee, wood, etc.
ETFs – diversified portfolios of stocks from several companies.
Stocks – the shares issued by the companies all over the world.
Indices – the indicators that show just how well the economies of certain countries/industries are doing. You can invest into them if you're sure they'll keep doing fine and vice versa.
This is all you'll need to have a successful trading experience. All the more so if the company can provide a safe trading experience from A to B (from depositing to withdrawing your money). If it can't return your money to you in the end – even the most extensive list of products won't bring you success.
Instruments and tools
The trading experience on HotForex isn't really intriguing for its products alone, but for the way they provide the means for trading.
Firstly, they have a wide selection of tools to have you create a trading strategy that'll suit you. There are a lot of these instruments. Here are just a handful of them:
Signal trading – two nifty tools (SMS Service and Auto Trading proper) that send you signals about the recent developments on the market. The latter can actually be told to make trading decisions for you. It's not exactly like using robots to trade on your behalf, but it is a fairly effective strategy;
Learning tools – there are several tools (like Autochartist, Economic Calendar, Exclusive Analysis, Traders Board and Calculators that enable you to carefully draw your strategy based on the latest economic events, market trends and correct numbers;
Simplifying tools – the HF app with the intuitive (more intuitive, at least) interface, as well as the premium management tools to make your burden lighter and your experience easier.
It's an oversimplification, the whole selection includes 12 tools, and some of them have minor tools of their own for an even deeper trading experience.
Trading platforms
In addition to the many instruments on HotForex, you're able to use any of them on one of the 12 trading platforms available here. It doesn't mean different software completely, actually, but many versions of MT4 and MT5, as well as an additional app launched by HotForex themselves.
So, it means you can trade on HotForex wherever you are, because the versions include the iPhone, iPad, Android and several PC variants of MT4 and MT5. Moreover, they reportedly have some instruments included into them from the start (like the Antichartist).
Most trading instruments are available from the very first account type.
Account types
There are six account types on HotForex. The distinctions aren't very dramatic – the only thing that changes throughout different accounts is the size of your deals, generally speaking. The leverage, the minimal deposit requirements and the number of the available open trades increases with each superior type.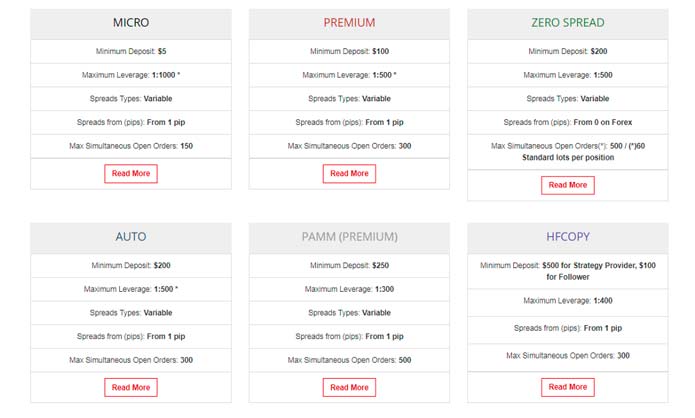 There is also a zero spread account, about which they boast constantly. This is the account with $200 minimal deposit and no spreads. Instead, it has stable and regular commissions per lot – quite a nice deal in some cases.
It's especially tempting when you stop to think that there are no deposit commissions on this website.
Controversy
There are several points on controversy surrounding HotForex. The minor ones are that the staff somehow manipulates the spreads. While it might be possible, the trading is a very risky affair, and you can never prove that the broker is cheating in this way.
The most pressing concern is the service issues. By all accounts, it's very hard to get a really helpful reply from a member of the staff. It's a big overlook, considering you'll always have a problem, even if it wasn't caused by the broker.
In conclusion
HotForex is a very thorough broker that allows its users to create the most detailed and nuanced strategies for trading. Still, not unlike many of their counterparts, they have a lot of problems surrounding the non-trading experience: the support isn't really helpful and it's very easy to lose money even outside of the usual trading problems.
Even so, it's worth trying out. However, it's highly advised to not deposit a lot of money at the same time here, because it's not exactly a transparent broker.