Fusion Markets Forex broker: User reviews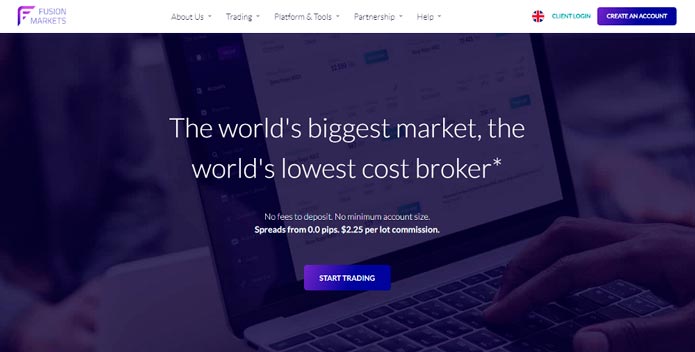 Fusion Markets is the biggest Australian Forex broker and amidst the top brokers worldwide. It has a lot to do with their personal approach to every single customer as well as a very humane design of their exchange. Evidently, in many ways they prioritize the customer needs rather than their own.
Usually the brokers slip up at least once, but the experience with Fusion Markets may very well be flawless, and it's one of the few examples of a totally user-friendly trading hub.
You can see the whole picture from the feedback summary and a thorough analysis of the platform below.
What is Fusion Markets?
FM is an Australian broker that puts a large emphasis on providing a low-cost user-friendly experience to everyone who visits them.
By the looks of it, they are fairly successful at it. Here are just a few examples of their client-favoring behavior, barring the client support stories:
The transfers (both deposits and withdrawals) don't require any additional fees, save for one occasion. If you transfer your money via an international bank wire, you'll have to pay about $25, but that's it.
The commissions are really low, although the exact price of a lot should be calculated specifically, because spreads can vary dramatically (even though they are pretty low on average) and there is some confusion about the size of the per-lot commissions.
As for the actual means of trading, they have a bit of a problem providing variety to their users. The available products and instruments have a very tangible depth – you can trade over 90 currency pairs and many variations of metals and commodities. However, there aren't too many of them.
The usual commodities (like materials and other less 'precious' resources) aren't available just yet, the shares can only be traded on CFDs and there is only one trading platform available – the MetaTrader 4. Truth be told, there are more than enough versions of it ready-for-use on FM.
So, it's not really a minus, but they definitely have room for improvement and growth.
Fusion Markets' rating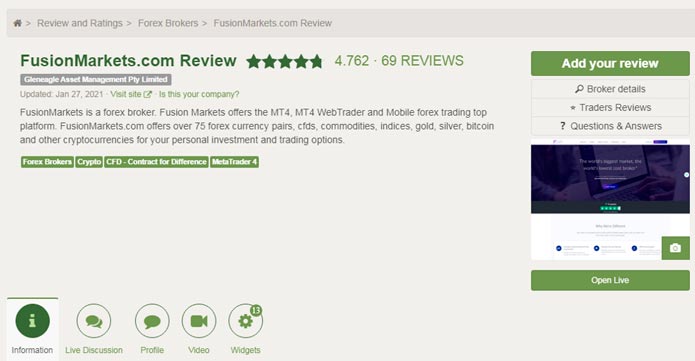 If you look at the popular review platforms, like Trustpilot or FPA, you'll see astonishing results of 4.8 on both of them. This puts FM amongst the top-ranking brokerage providers at the moment. And there are several key targets of praise, it seems.
Moreover, there are no major points of complaint or criticism. There are several minor problems, but they aren't really painful and obviously not of the same caliber as all the good sides.
Advantages
So, let's go over the biggest reasons to start trading on Fusion Markets, although there are quite a lot of them. Objectively, it's a fairly good website.
Low commissions and spreads
So, their low-cost status is true, and the users have noticed this. They themselves claim to be ~36% cheaper than their rivals, and this estimate isn't far off, apparently.
The question of commissions is a bit confusing, because there are two types of accounts on FM: ZERO and Standard. While ZERO demands you pay commission for each lot (4.50 USD for each action), it's stated many times on the front page that they charge half of that (2.25 USD).
It's a bit confusing, but it means that both the placing and withdrawing of a lot are charged 2.25 USD, and the round turn is 4.50 USD. A bit of a confusing marketing, but even 4.50 is still a very good price.
The spreads are also pretty tight, although there is a quirk. If you choose a ZERO account, your minimal spreads will be at 0.0, although with a Standard the number rises to 0.8 (but you also won't need to pay commissions with the Standard, a fair exchange).
(!) Furthermore, if you trade in Australian dollars, you'll be able to feel an even more generous welcome here. AUD are less valuable than USD, but whether you trade in one or another, you'll pay the same amount – 4.50. It's completely intentional.
Both big broker review aggregators (Trustpilot and FPA) are filled to the brim with the 'invited' positive reviews, many of them tell the personal stories related to the client support from Fusion Markets.
It's usually not a good thing, but there are virtually no truly bad reviews, so these good reviews aren't really off-setting the bad feedback, they are earnest. Not much bad about that. Furthermore, FM agents are very eager to answer to any feedback they find.
It's also their principle on their own platform, as the stories suggest. The agents are keen on making sure you've settled fine and you don't have any issues, complaints or points of confusion.
If you do, you can always write to one of the agents directly or access the live chat (open 24/5).
There are more things to commend FM for, but that's what people insist on the most. It doesn't only apply to executing orders inside the trading platform – it applies generally to their behavior.
Their support agents answer pretty fast, they process the withdrawing and depositing requests fairly quickly and they also admit new accounts without much of a fuss. It's a very good way to attract new eager users.
In conclusion
Fusion Markets is a very nice option if you want a transparent, comfortable and user-friendly experience while trading. This website has very little flaws, surprisingly. Even the top brokers always have something fishy going on, but not that.
Actually, if you consider becoming a trader and if you specifically want a Forex or commodity-oriented broker, Fusion Markets is your choice even without low cost to keep you happy.