FP Markets Forex broker: Advantages vs. Disadvantages review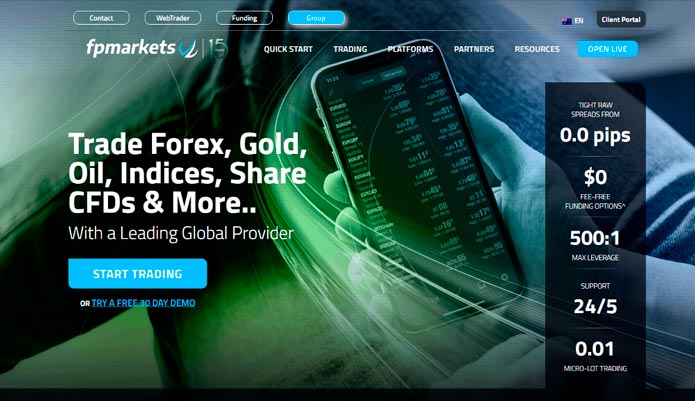 First Prudential Markets is a long-living broker from Australia. This company is one of the biggest names in the industry, all the more in Australia. If you look for a reputable broker from this continent, you'll likely be given this choice or maybe the Fusion Markets. That's the general advice, anyway.
FP Markets is said to be a very affordable broker with many various products to satisfy the needs of every client. This reputation, however, is tarnished a bit by some reviews and rumors circulating around FPM, most of which accuse them of using unfair practices to cheat the users and steal their money.
Let's see exactly what the problem is and why you might not want to trade with this company.
FP Markets' reputation
The user feedback on FP Markets is highly divided. One part of the reviews tells about splendid experience, but another smaller part consists of the complaints with several key points of criticism – more on that in the 'the downsides section below.
Despite this, the general image of FP Markets depicts a very thoughtful broker with a lot of different resources to help people get on with trading the way they want. In addition, they offer (at least, in theory) some fairly humane tariffs on their brokerage. In the end, the client support is also said to be superb.
The fees are an especially relevant subject, because they are in the center of most controversies surrounding this exchange. The commissions are, as follows:
Raw spreads starting at 0.0
No fees for transfers (save for international bank transfers)
1:500 maximum leverage
No commissions on the Standard account (as long as you use MT4/5)
It sounds like a very good deal, but it might also trigger you if you had dealings with other brokers before. FPM uses ECN Pricing, and it means they can offer much tighter spreads, that's why they boast having spreads as low as 0.0. Furthermore, FP Markets doesn't have a complete commissions list, which might also be because of ECN.
The fact that they can't give you some fixed commissions and spreads means they are exposed to slippage. And that's exactly the problem.
The Upsides
Ignoring the parts discussed above, FP Markets can boast several very noticeable upsides which improve an average trading experience dramatically.
This includes products, instruments and useful content, which is very plentiful here. To concentrate on the first two bits, FP Markets tried to shove absolutely every popular tool and asset into their assortment. It includes things like currencies, shares, metals, other commodities, indices and even cryptocurrencies.
Furthermore, there are several trading platforms to choose from, including the renowned MetaTrader 4, MetaTrader 5, WebTrader and FPM's own trading app.
More still, there are tools to help you along the way, including AutoChartist, VPS, MAM/PAMM and more.
In essence, whatever approach you prefer, you'll have means to make it come to fruition – at least, in theory.
The learning content is very much essential for a proper trading experience. That's why many brokers choose to add at least some of it into their websites. These additions aren't always useful, though. Sometimes they just include several blog posts or several market reviews. Not in the FPM case, however.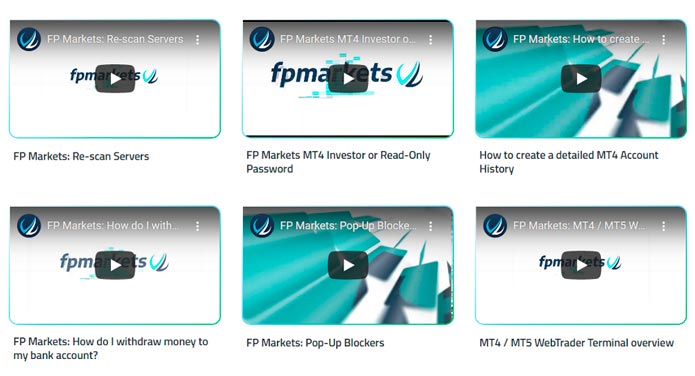 Every inch of their website is thoroughly described and given a theoretical underlining so that people who don't know much about trading as a whole or some specific subjects discussed throughout the pages could catch up.
It is a good thing they posted so much reading material, although there is arguably a lot of it, and a lot of it stands where exact numbers should be.
Moreover, if the trading content itself is not really fulfilling, the broker itself can't be considered any good. Some genuinely good brokers don't have any extensive blog sections either, so the value of this point might be exaggerated.
Satisfying client service
A lot of positive reviews state that their support agents were fairly professional and helpful. While this may be the case, you can't really call FPM's support great, just satisfying. The negative experiences (downplaying, ignoring, condescending attitude, unresolved issues, and so on) may be in the minority, but there are still a lot of them.
The withdrawing speed could also be attributed to this, because it's the live agents who process the requests most of the time. And most of the time, these requests are approved within the short periods of time.
The Downsides
There are many points of criticism, but they all tie together into a larger controversy that surrounds FPM for some time now.
First and foremost, the raw spreads present at FPM should not slip as much as they do for some people. It's true that some assets (namely, the less liquid currency pairs) can have astonishingly high average spreads (EURCZK pair can go up to 317 pips and beyond, for instance).
However, many people believe that these sudden slips are orchestrated by FPM themselves, and that they do it irregularly as to not attract too much attention, all the while drowning the aggregators in good reviews by being fairly helpful to other unscathed people.
It sounds like a wild theory, but FPM markets do slip much heavier than usual, and sometimes even on highly liquid pairs. It just can't happen naturally. Moreover, victims who suffer such losses are often deprived of adequate support, blamed and sometimes ignored. It happens too often to be unsystematic.
In conclusion
Normally, FP Markets is an affordable and highly thoughtful broker. If it was just that, it could be readily recommended to everyone interested. However, controversies surround this broker too often to recommend it without warning.
If you really want to use their help, you shouldn't invest much. Even if these are just accidents, they happen too often to disregard them. Be cautious around FPM.