Dowmarkets Forex broker review: Why are they worth it?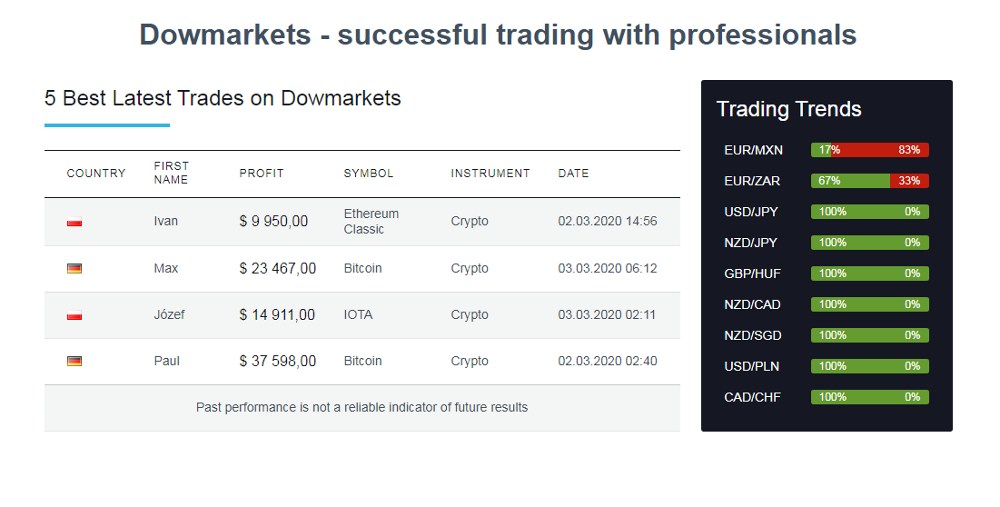 Dowmarkets is a broker that positions itself as an innovative brokerage service with everything suited for your own convenience and profit. As such, they have many little features that make working with them a uniquely beneficial experience for all. You can build your strategy using the way you want it.
To realize the full potential of trading on Dowmarkets, a lot of the local instruments need to be explained. Despite their efficacy, they aren't explained or presented explicitly enough, which often leads to misunderstanding and confusion amongst the users.
So, let's extract a few key perks and see why working on Dowmarkets is worth your time thanks to them.
Broker description
Dowmakers is considered one of the more reliable brokers in its category. They provide fast and precise execution for all of the markets connected to them. And these are united into several asset categories:
Currency (Forex)
Cryptocurrency
Stock (Shares)
Indices 
Commodities
It's pretty much all you need for a successful trading experience, and a little more on the top. But in order to trade in these things proficiently, you'll have to get yourself a few helpful instruments. Well, you obviously won't be able to trade without them, but it's also about improving your performance with some of them.
Software
Although Dowmarkets does provide a rich assortment of instruments and software, they are more about practical knowledge. The trading platforms are by far the most essential parts about trading. DM got a few platforms to choose from:
MetaTrader 4
XCritical app
XCritical online
They couldn't have excluded MetaTrader 4 from the group. It is the most popular trading platform of all times. The Dowmarkets version is pretty clean – it only has all the necessary indicators and charts. At the same time, you can boot up the interface right on their official website, without having to download the software.
MT4 is pretty effective, especially in the composition of a web terminal. You can open all sorts of additional calculators to help you out and not overload your browser at the same time. But MetaTrader is not the flagman here.
XCritical is the trading platform they emphasize the most. It has many variations, but there are generally two subtypes of it: the 'online' version and the 'app'. Funnily enough, the former is ported to all sorts of devices, including mobile and tablets. At the same time, the app one is only available for mobile, and it's a bit different.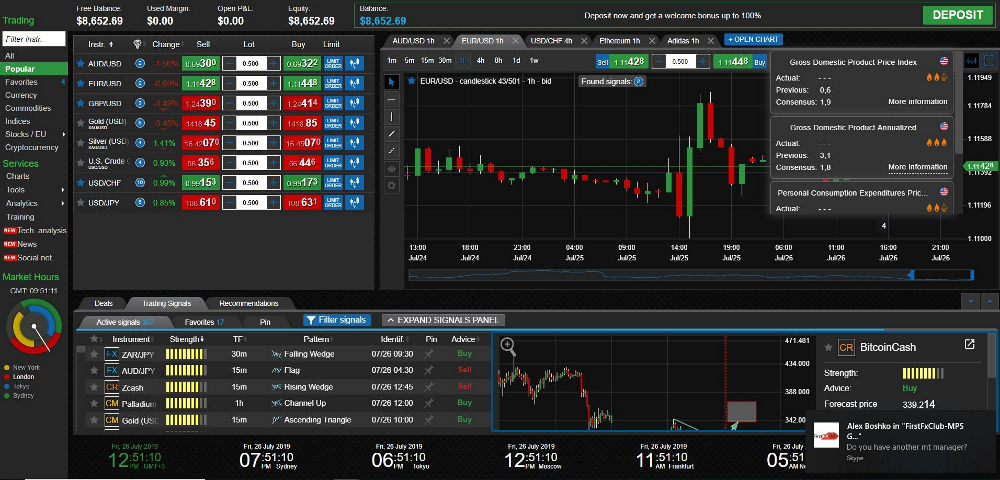 The online one is more of a classic trading platform. It has slick and clean design with all sorts of indicators, a price chart, action space, and so on. The tools are neatly packed in different categories, so you can access or remove them at any time. 
The app is a bit different. It doesn't have that many tools, but you can still go through with your plans with ease: you can look at the price trends of many different products, albeit in a simplified way that allows you to buy or sell in one swift click. You can also open up a chart of any specific asset and monitor wherever you are.
All the essential indicators, tools and other helping instruments are included into the online XCritical platform from the start. There are actually over 180 of them – you will find something for your own trading style if you look patiently enough. The customizability potential is humongous.
Educative part
The sources of practical information are no less important than actual software tools, whether you are a beginner or an experienced trader. Dowmarkets provides several such sources, through which you can improve your understanding of trading or receive valuable and relevant market information.
Dowmarkets prides themselves the most on their webinars. They launch new ones very regularly, and these webinars take different forms. Sometimes they are tutorial materials for beginner traders, and sometimes the hosts take a look into the recent economic events. Everyone can find something interesting for themselves.
There are many basic articles that tell you all about different product types, including: shares, Forex, commodities, crypto and bonds. Here, you can learn how to trade in them what they represent and how valuable they can become – in short, everything a rookie ought to know.
Market reviews & Strategies
This section is full of articles published regularly by the specialists. They contain general information about the upcoming months in relation to different markets, advice on how to approach the assets in this new situation and different strategy recommendations – very useful for all levels of experience.
It's a fairly common, yet useful feature. They post daily updates on the recent and upcoming events that happen across the world. Events in many countries affect the respective currencies very significantly, so it's advised to look at this calendar once in a while.
The experts compile these events and give each one a rating of significance, as well as add what possible consequence (negative or positive) it may have.
Summary
Whatever your style or strategy, Dowmarkets has something to accommodate you. There are lots of instruments to help you create your own approach, both theoretically and practically. There are many sources of important knowledge about anything you'll need and tons of tools (~180 on their online platform alone).
Dowmarkets is a very good playground for rookie traders and experienced investors alike, in short.