Coinberry Review: Is it a legit exchange?
Coinberry is a crypto exchange based in Canada that works more like a cryptocurrency retailer. The assets can be purchased and sold only on this platform, so it somewhat resembles a broker. The usage is not difficult and the platform is user-friendly. However, can one trust it or is it a scam? Read our Coinberry review to find out.

About Coinberry
The company was founded in 2017 and is based in Toronto. At first, it worked as a BTC ATM service in Ontario. Later on, it developed into an exchange, and that was the right choice. It became famous in the Canadian crypto industry, so if you are a Canada-based trader, it would be surprising if you did not hear about it before.
The main idea of the company was to simplify the process of buying and selling cryptocurrencies for Canadian users. The exchange tried its luck in local areas, and when they saw that it was a good idea, they expanded their services to the whole country. As a result, it became one of the leading exchanges around.
The service is constantly developing. As time goes by, we see that the quality is only increasing. This is a good sign and shows that the owners of the resource care about their customers and truly want to provide the best terms in the industry.
What can you trade with Coinberry?
Currently, Coinberry provides only 6 cryptocurrencies. Here is a list of available options:
Bitcoin
Ethereum
Litecoin
Ripple
Stellar
Bitcoin Cash
These coins are the most popular choices in Canada. For professionals in the industry, it might be a bit confusing that the choice is so narrow. However, the company promises to introduce new coins in the near future and expand its services. It is quality over quantity, after all.
Fees at Coinberry
The Coinberry fees are very low for the industry. The exchange positions itself as the "people's choice" by providing the lowest possible charges. For example, you will not be charged a single penny for deposits and withdrawals. The trading fees, though, are fixed at 0.5%. The developers need to make some money, right?

Customer support at Coinberry
The customer support at Coinberry.com is quite decent. There is a working hotline, an email address, and a live chat form. The best choice is the hotline because if your issue is something urgent, this is the fastest way to get help.
The email support agents answer all tickets within 24 hours. It has been noticed that it usually takes one or two hours to receive an answer. Below is a picture with all the options for contacting Coinberry.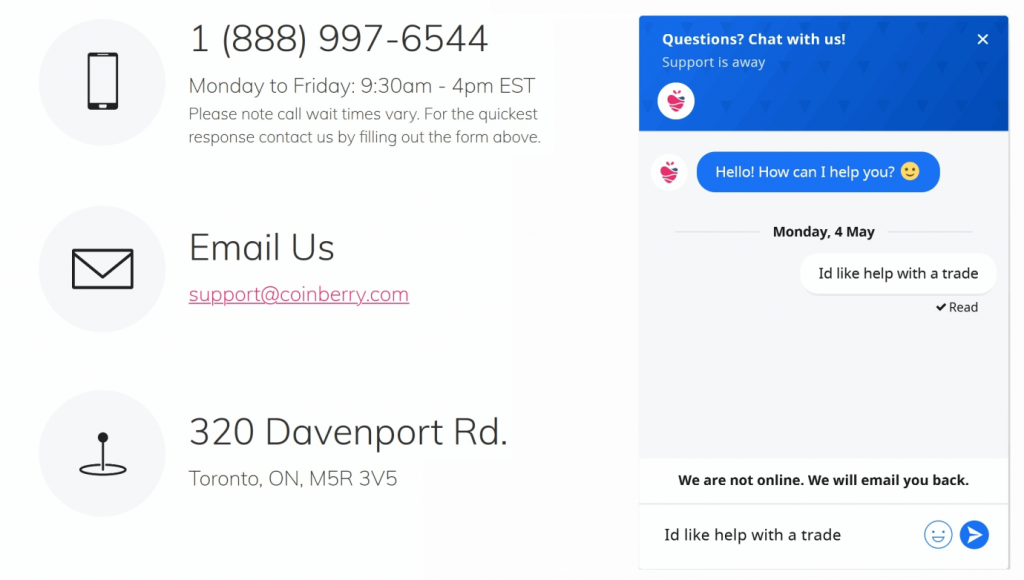 Is Coinberry safe?
According to our research, Coinberry is a safe cryptocurrency exchange. It follows all the legal requirements and modern security standards.
First of all, all customers have to pass a verification process. This feature is the most talked about. It is not difficult and can be completed almost instantly. It is required that the customer uploads passport or ID. Some additional documents might also be required. There is nothing bad or suspicious about it. This is a normal requirement for a legit exchange.
Second, Coinberry is regulated by FINTRAC and follows its standards in everything. The exchange itself is registered as an MBS. In Canada, only several services follow the general requirements. Coinberry is among the only two companies that do that.
Finally, Coinberry has the best security standards in the whole North America. This is because it is a money service. The exchange has special funds for fiat money. Coinberry also offers cold storage and allows customers to enable a two-factor authentication to ensure the safety of all accounts.
Advantages and disadvantages
Coinberry is not perfect and has some flaws. We have prepared a list of positive and negative sides for our readers to easily determine whether they want to work with this exchange.
Pros
Regulated by FINTRAC
Low fees
Competitive terms for Canadians
Possibility to instantly complete the verification process
No withdrawal fees for fiat
Cons
Works only in Canada
Works with only six cryptocurrencies
Professionals might consider the trading platform "weak"
User opinions on Coinberry
Although Coinberry is a relatively new service in the Canadian cryptocurrency industry, it already received plenty of customer reviews. The majority of reviews are positive. People indicate various advantages and some drawbacks of the service. A lot has changed since the website was launched and not everyone supports the novelties.
Here is what Leonardo Zeng thinks about the service. He considers the exchange to be a great option for newcomers.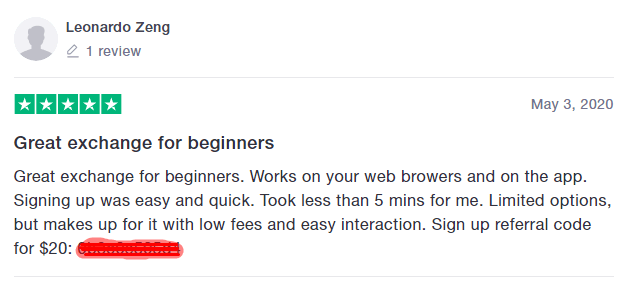 The user also states that the service works well on both mobile phones and browsers. The registration process is easy and is not time-consuming. Although the choices are very limited, the low fees compensate for everything.
Another user, Christopher Hiemstra, has had a negative experience with other exchanges like Kraken or Etana. It was not easy to buy Bitcoin there.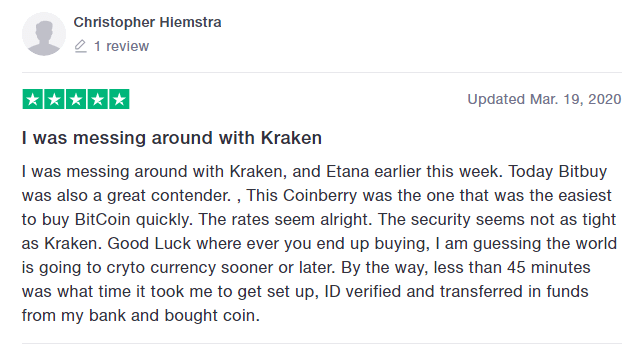 As Christopher states, Coinberry was very easy to use. He could buy BTC in no time and did not have to spend ages on that. The whole process, including the registration and purchase, took him less than an hour.
Conclusion
Coinberry is a decent cryptocurrency exchange that is regulated by a reputable authority. The company has had no issues since its creation, and that is a very good sign. Most of the user reviews also show that the exchange can be trusted. Although Coinberry does not offer a huge variety of coins to work with, the service is very promising and will expand in the future.