BlackBull Markets broker: Features review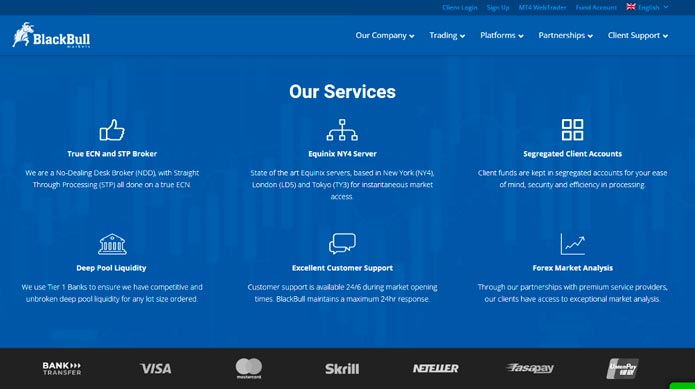 BlackBull Markets is a pretty popular all-purpose broker from New Zealand. It's notoriously hard to register on this website, although the process is well paid-off by the abundance of different features and profit opportunities available here after the registration process. Moreover, they evidently let you keep your earned money, which is a surprise.
Many brokers deprive you of your winnings at some point, even if they have a lot of different features and tools. BlackBull is largely honest, for their part.
So, you can keep your money after working with them. But what helpful tools do they actually have? Here's a quick analysis.
Client service
When it comes to interacting with their clients, BBM has two main points:
First, they are very thorough about checking the background of their clients before letting them trade. It's actually dictated by the NZ legislation, so it's hardly their fault. Still, their mundane checks and frequent access declines turn away many customers.
Second, when you try to get answers from their support team, there may be delays. It's possible that they waste a lot of their effort checking the background of the potential users and their actual support department has to struggle. But then, this conclusion is based on user complaints mostly.
They actual support consists of several main components. The live chat is functional all the time, except for the weekends (this can be partially remedied by getting better account types).
Then, you can also contact them via an e-mail – a dedicated support agent will answer you, although it can take time. They claim that going through user e-mail doesn't take more than 24 hours, but things can happen.
Lastly, there are several categories of learning content: one of them consists of basic questions about the broker's properties, fees and features as well as the trading itself.
Asset variety
BlackBull mostly just specializes in Forex and commodity trading, but they also have a small section dedicated to index CFD trading.
Their currency section is quite generous by the looks of it. They claim to have 60+ available currency pairs, although if you check their Forex chapter, you'll see that they only have 27 trading pairs. These include major and less popular options. This is a nice assortment, but barely the extent they promise.
If there is more, then their Forex section is utterly misleading and should be corrected. In addition, if they only have the variety listed in their Forex page, then their economic calendar feature from the client support section is partially nonsensical. They feature all sorts of currencies there, including those not listed amongst the available currencies.
This entire section is absolutely misleading.
On another hand, they have specific sections for commodities, metal commodities and energy commodities, which is neat.
Learning content
The educational part isn't only represented by the basic FAQ section. There are such learning materials as:
Entry-level guides (client support -> education)
Short videos about trading platforms, candlesticks, account types and more (client support -> trading videos)
Several articles with interesting new strategies and advices (client support – trading guides)
An extensive trading dictionary, which includes descriptions of pretty much all professional trading terms and phenomena (client support -> trading glossary)
The latest news about the changes in major markets (client support -> trading resources -> market reviews)
An economic calendar with all recent developments in economy, politics and financial sector that may or will influence the value of currencies (client support -> trading resources -> economic calendar)
There is, of course, more than that. You can find more information about the broker itself, their technology and how they operate. But it's not really as extensive, and this material is just there to tell you the basic minimum.
The actual learning sections, however, can offer help to all levels of professionalism. If you are new to trading, you can enjoy the essential guides. If you know a lot about it already, you can plan your strategies by being aware of the news and market updates.
Account types
There are several account types you can sign up for on this website. This includes:
Standard account
Prime account
Institutional account
Islamic account
The first free are gradual improvements (sort of). Different accounts demand different amounts of deposits: $200, $2000 and $20000 for Standard, Prime and Institutional respectively. But they also have different perks.
The more you pay, the fewer spreads there are. In addition, the Institutional gives you private tech support and other privileges. In essence, BlackBull doesn't stratify its customers too rapidly, everyone still gets roughly the same amounts of tools, and the leverage is the same for everyone (up to 1:500).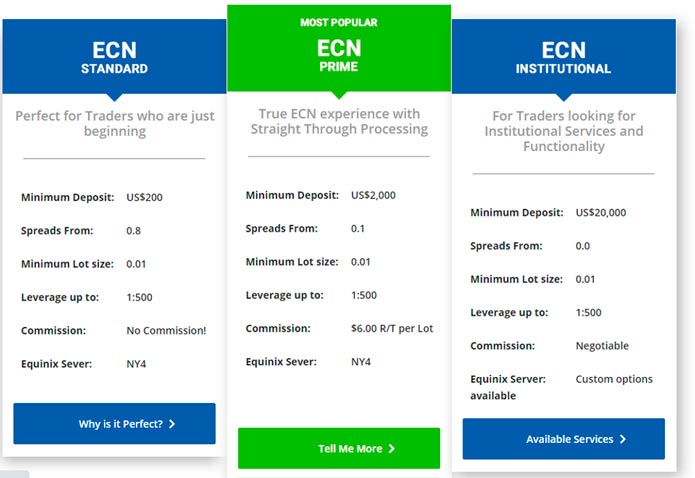 Standard is recommended for small-time and beginner level traders. The spreads are pretty wide on this version, but you don't pay commission. Prime is for more experienced users – these accounts have tighter spreads, but they do pay fixed commissions of $6 per position. You earn more, but you pay constantly.
Institutional is for professionals or organizations that earn a lot and need special treatment. The commission rate is negotiable – if you sign up for this account type, you'll be able to work closely with the administration.
Islamic account is a subtype of Standard and Prime. You can upgrade any time you want, and the main difference is the absence of all interest (Islamic is swap-free), although you'll have to prove you are a Muslim or live in one of the Islamic countries.