Bitbuy review: is it a good exchange?
Currently, Bitbuy is one of the most popular exchanges used to buy Bitcoin in Canada. At least, that is what most websites tell their users. It is known that this company works since 2013 and seems to have no issues since then. Is it really a trustworthy resource? Read our Bitbuy review to find out!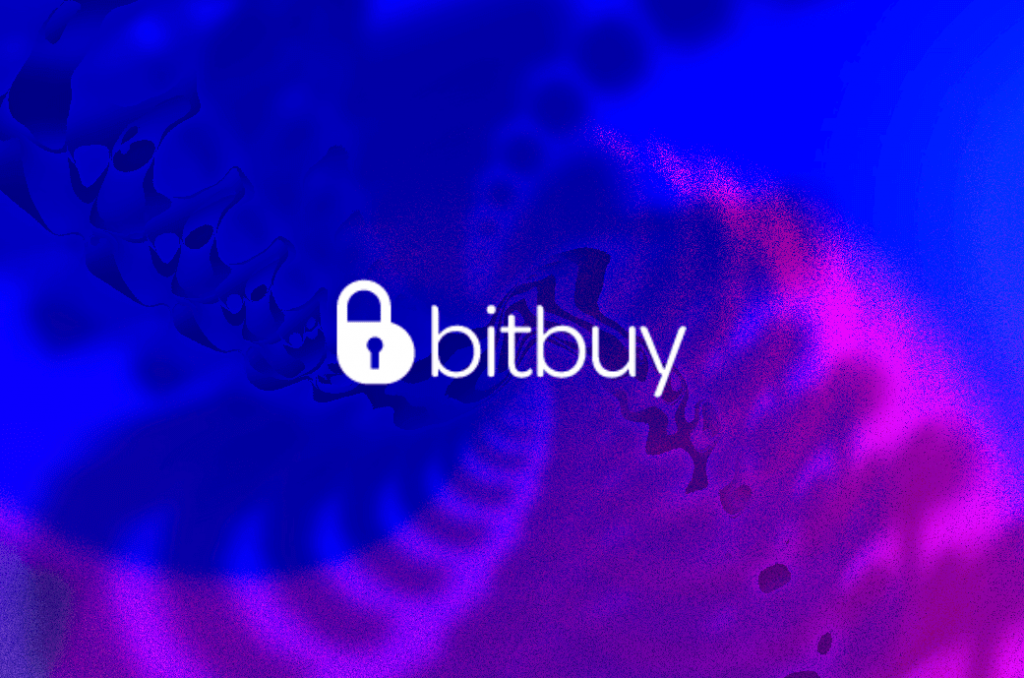 About Bitbuy
The main goal of Bitbuy was to simplify the sale of many different cryptocurrencies for Canadian traders. That is why the Canadian dollar is the dominating fiat currency in the service. The main office of the exchange is located in Toronto.
Bitbuy is a subsidiary of First Ledger Corporation. The company is very transparent and no information is hidden from the customers. The exchange is also well known for its integrated wallet solution. The company works from Monday to Friday from 8 am to 8 pm.
What can you trade on Bitbuy?
On Bitbuy, it is possible to trade six cryptocurrencies. These are:
Bitcoin
Ethereum
Litecoin
Bitcoin Cash
Stellar
Ripple
All these are connected in pairs that include CAD or BTC. You can trade them on a modern platform provided by the exchange.
Payment methods for Bitbuy
The deposit methods are the same as in other Canadian exchanges. With Bitbuy, these are:
Wire Transfers
Interac e-Transfers (or Express ones)
It is impossible to use bank cards to top-up your Bitbuy account.
If you top-up your account in cryptocurrency, you do not have to pay anything above that sum. However, you need to pay 0.50% for wire transfers, 1.75% for Interac e-Transfers (or 3.50% for Express ones), and 2% for Flexepin.
Withdrawals can be made in each of the listed cryptocurrencies and CAD. The fees vary significantly. Detailed information can be found in the table for cryptocurrencies below.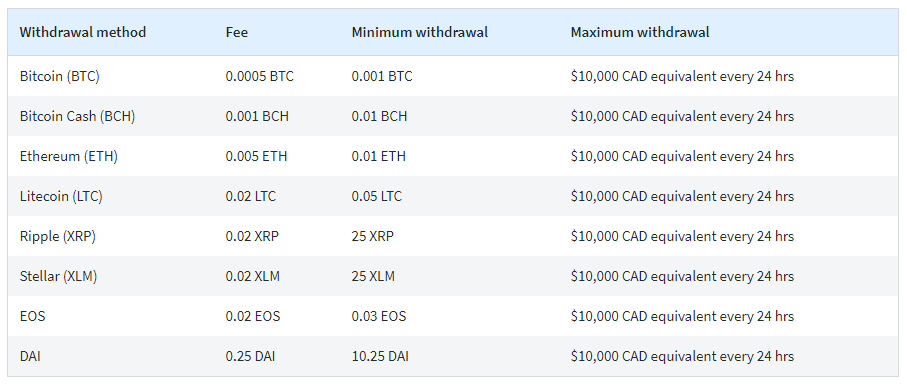 Here is a table with limitations and requirements for withdrawals in CAD.

As you can see, the fees can take away a decent part of your profits. Keep that in mind when you decide to invest in cryptocurrency with Bitbuy.
Supported countries
The exchange can be accessed from any part of the world. However, there is a restriction – only Canadians can trade and withdraw money from the service. To register, your phone number must be from the North American region. In addition, only the Canadian Dollar is supported in fiat currencies.
Mobile application
Bitbuy has a mobile application for Android and iOS that can be downloaded from the application stores. It lets users work with all sorts of currencies, monitor the market from any place in the world, easily make deposits, and use the safe integrated wallet system.
Services
All the operations are processed on an online web-based platform. It can be easily accessed from a computer, laptop, or mobile phone. The interface is very intuitive and nearly every action can be done in a couple of clicks.
In 2019, the service has added a possibility to complete advanced orders and get a live trading view. Something similar was previously offered by Coinbase in their professional account types. Now, it is also available here, and users seem to like it very much.
Customer support
The customer support at Bitbuy is the best in the field. First of all, we want to bring your attention to the support phone line, which is a seldom thing for broker companies. If you leave a ticket via email, you will most likely receive an answer in less than 12 hours. What's more, answers are sent even on weekends! Not many exchanges can show off by having such results.
Pros and cons of Bitbuy
We shall make a list of the positive and negative sides of the exchange, so you can quickly find the information you need. This is based on our personal experience and user opinions from forums and blogs.
Advantages
Based on CAD
Great customer support
Regulated
Good reputation with bank institutions
Easy to use website
Disadvantages
Works only with people living in Canada on a regular basis
Only 6 cryptocurrencies to choose from
Fees are not the best in the industry and will eat into your earnings
User opinions on Bitbuy
The major part of reviews about Bitbuy is positive. For instance, on Trustpilot, there are no bad or poor opinions. This is a good sign that the exchange works how it is supposed to and does not deceive customers.
Here is what Marty Larson thinks of the website.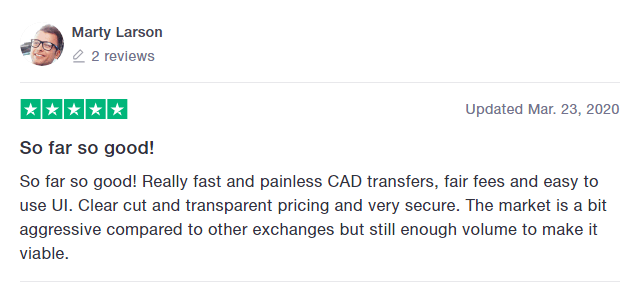 He mentions that the transfers are very quick and the fees are okay for him. Also, Marty appreciates the transparent pricing and security of the exchange. Finally, he considers the market to be aggressive in comparison to other services but that is okay.
Another customer, Stephen Gilbert, has also left an excellent review about the service.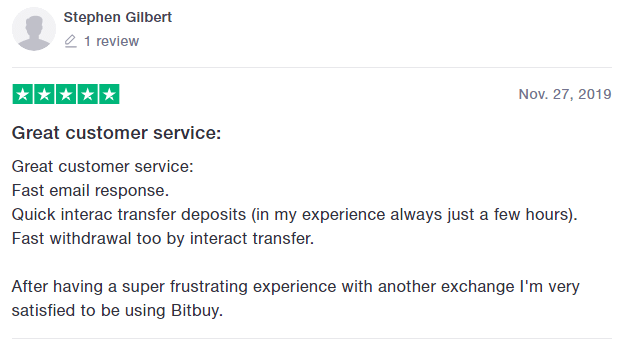 Stephen likes the customer service, the speed at which he received an answer, the way the deposits were made, and how fast his deposits were. He compares his experience with another exchange and says that Bitbuy is the winner.
Conclusion
Bitbuy is a professional cryptocurrency exchange that has a leading position on the Canadian crypto market. Six cryptocurrencies, each connected to the Canadian Dollar, can be traded here. Although the fees are not the best in the field, it is not that bad.
Deposits and withdrawals are processed in no time, and that is what users like. As we can see, the majority of reviews are positive and users appreciate everything related to the service. What is your opinion about Bitbuy? Share it in the comments!