Beaxy Exchange: User Reviews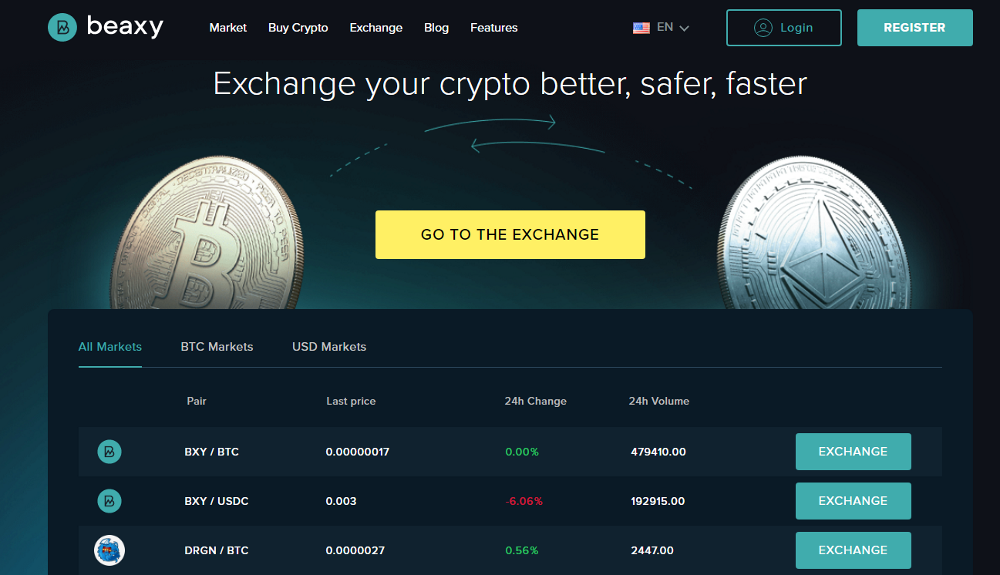 Beaxy is a moderately-sized crypto exchange. It means it doesn't have as many users as other exchanges or an extended selection of coins. However, it's not in numbers that Beaxy has an advantage. The chief advantage you'll have here is an utmost security and a good reputation.
So, focus on quality, rather than quantity – that's commendable, but what exactly does Beaxy have to offer and what do people think about this exchange? The former can be figured out from simply looking at the exchange, and the latter has to be understood from the user reviews.
What exactly is Beaxy?
Beaxy is notorious for its peculiar selection of coins. It has several key crypto currencies, like Ethereum or Bitcoin. The majority of trading operations are done using them. However, there are peculiar small coins and tokens like Gunthy, Wagerr, Aion and so on.
Beaxy is still a fairly big exchange. So, if you have in your possession some of these coins, you may consider trading in them on Beaxy. Here, you'll have a larger change that someone buys them off of you. There are several dozen of these coins – you may find something for yourself.
Beaxy exchange also produces a lot of helpful software, like:
Public API – an interface designed to improve your performance on the market
Trender – a Tinder-like app designed to find crypto matches and deals for you
Custody – service that provides top-notch security to your transactions
Hummingbird – a trading algorithm designed to automate your trading process
Beaxy Trading Platform – their own clean and intuitive trading platform
They are very transparent about these operations, but there is no telling if these apps and pieces of software are effective or not.
The rating of Beaxy
If you take a peek at different user review aggregators, you'll see that Beaxy has a relatively high rating, although it varies. The average rating is usually 3.5 to 4/5 on public platforms. It means that the users consider their experience on Beaxy more or less good.
However, there are several key features where Beaxy exceeds a lot, according to users.

The advantages
You'll most likely be highly satisfied by your experience with Beaxy. However, there are several points that stand out a lot.
Ease of use
Beaxy is very friendly for users, precisely because it's so easy to use and to navigate. There are few things that will confuse you. The design on the website is structurally sound. It's the perk that cannot be underappreciated. There are no unnecessary elements, and all the features lay exactly where you'll look for.
Moreover, there is no excess information that will confuse you. And if you need to understand something, there is a blog section that will try to help you.
Great security
The security measures on Beaxy seem to pay off. Curv – the security provider – is in itself considered legitimate and safe. So, there is almost no initial fear that something will go wrong. Once you start working with them, the remaining fear will also vanish.
It's a crucial distinction, because a large portion of exchanges – even large exchanges – are notoriously fishy. If it's well-known that the specific exchange is safe and legitimate, you can work big from day 1.
Pleasant attitude
Another crucial gear in any exchange is user support. Even if an exchange is 100% compliant with the legal regulators and if there is no record of any breaches of security on or by the exchange, they need good service. Some issues with trading aren't at all related to security, but to technical aspects.
That's why you'll have to provide your users with help and an answer to their questions. Without them, they'll lose faith in your exchange. Beaxy knows this well, and that's why they have a fairly efficient service with pleasant workers on the job.
Big supply of tokens
Beaxy may not be a large supplier of crypto coins, but it is a very effective supplier of crypto tokens. Tokens are different from coins in many ways. One of the major distinct qualities is their low cost-efficiency. Because of it, not many tokens are available in large numbers.
Beaxy is great exactly because it has a lot of tokens that few other exchanges have in stock. If you have a supply of tokens stored somewhere, you know the pain of trying to sell them. Well, maybe Beaxy will help alleviate it a bit.
The disadvantages
There are no real disadvantages. There are weak sides, like the small selection of currencies (both crypto and real) or a small number of overall and daily users (which results in poor liquidity of coins and tokens). There is also an issue of language service: the platform only has English and Spanish to choose from.
They are, however, mostly minor and don't affect the experience very much for the majority of users.
There are two very nagging problems that you will likely face in the course of your work with Beaxy:
The lack of crypto available for trading
The lack of trading pairs that you may be interested in
Either way, they are small compared to the usual problems the exchanges face. I.e. the lack of compliance, the insecurity and the lack of user support.
In conclusion
Beaxy is a decent crypto exchange for its size. It's not terribly big, and, as such, it doesn't have a lot of trading pairs for the picking. However, it has a lot of small advantages, and the exchange itself gives you an overall smooth experience.
It's a lot more than the regular exchanges give you. That's why you really can't complain about the small difficulties. But of course, you can't be forced to use it if it doesn't have precisely what you need.